News about Blumenhofer Acoustics
15 May 2014, 12:47
Germany, HiFi Show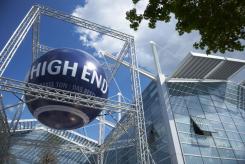 What an event. Tons of people, lot of contacts, huge interest. Bigger than ever. Gives confidence!
Here a little story about our experience at the show:

This is a panorama of our room, here You can enjoy more pictures, and here You can see the pictures made by Peter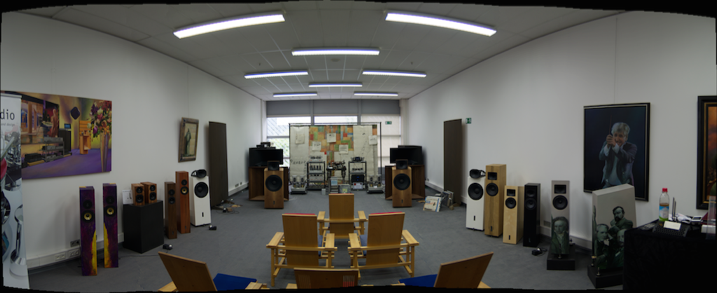 The setup was impressive:
- Our concept loudspeaker, an horn loaded open baffle with bass flow stream (soon more info in a dedicated web page)

Power Amplification from Allnic Audio an astonishing brand from Corea
- Phono Preamplifier H-5000DHT
- Line Preamplifier L-5000DHT
- Power Amplifier A-10.000DHT

Digital Source from Metronome Technologies specialized in CD players, transports and DACs from France
- DA Converter C-8
- CD Transport Calypso

Analog source from Pluto Audio, a highly exclusive turntable manufacturer from Holland, on the market since about 40 years
- 10A Reference Special with new Motor design from Sonore AC, 9A Special MKII tonearm with a special designed Cammino HP tonearm cable

Cabling from High Fidelity Cable from Texas, USA
- Interconnect and Loudspeaker Cables, the top for the moment

Power handling from Cammino-HP, a small but growing company from Italy:
- H3.1 Power Harmonizer
- Several power cables
- Turntable tonearm cable

All in all I do not dare to count together the cost of the shown system and I honestly enjoyed it day by day more: it had each day development that brought it more and more in the direction of music.
- Thursday we started
- Friday we moved the loudspeakers
- Saturday we swapped cartridge to an AirTight Supreme Gold
- Sunday was the time of the Anna MC Cartridge of Ortofon

There was lot of people until the latest ours of the Sunday, our room was nearly constantly filled and we hardly come to visit the rest of the show.
The feedback of the public was enthusiastic and opened the way to further developments.

Sunday evening was a pity to dismantle the system and conclude the show... but now it is time to collect the results. See You in the Munich High End 2015!